Read this post in

Arabic
Bright, sensual, bold and all things extraordinary-that is what Prada continues to be known for. This issue, we take a look at the legacy that Prada is…
Prada may have started out as just another brand but today it is a fashion phenomenon. Yes! The name itself commands a high degree of respect among those who patronise fashion. Pioneer of a philosophy of action that transcends fashion, the Prada Group inquisitively observes the contemporary society and its interactions with the most diverse and apparently distant cultural spheres. The brand is known to be a contemporary interpreter of changing scenarios. Their focus has always been on identifying the heritage of the past with demands and dynamics of the present and future perspectives, creatively molding ideas that transcend the boundaries of the ordinary and create an innovative vision of tomorrow.
The growth of an idea
Mario Prada founded the brand in 1913. Mario and his brother Martino initially ventured into leather bags. Ever since the legacy has only grown stronger. Prada's focus on originality made it one of the most influential fashion houses of its time. Miuccia Prada who currently heads the Prada Group inherited the company in 1978 by which time sales were up to U.S. $450,000. With Patrizio Bertelli alongside her as business manager, Miuccia was allowed time to implement her creativity in the company's designs. She would go on to incorporate her ideas into the house of Prada that would change it.
In the year 2000, under her regime, Prada aggressively pursued the mergers and acquisition strategy. As a result, the brand grew and so did it portfolio. Prada's foray into perfumes was in 2000. Just like its legacy in fashion, the brand continued to make waves in perfumery as well. Collaborating with leading perfumers, Prada has created some mesmerising fragrances, once again an exemplary display of the fashion phenomenon that the brand is known for.
Prada and the movie connection
When Hollywood pays tribute to your legacy, your iconic status goes several notches higher, isn't it? And this is what happened to Prada. The brand's iconic status got a major push when Hollywood embraced it. The 1999 feature film 10 Things I Hate About You features an exchange of dialogues between the lead characters extolling the virtues of Prada ownership.
This is not it. In 2006 there was a feature film titled The Devil Wears Prada (based on the book of the same name) featuring Meryl Streep in the lead role. The actress went on to win an Oscar nomination for her role. Her shoe wardrobe for the film was said to be "at least 40% Prada" by the costume designer Patricia Field. Anna Wintour, editor-in-chief of American Vogue and the supposed inspiration for Meryl Streep's character, wore Prada to the film's premiere. Such was the loyalty towards the brand. People loved and continue to love Prada.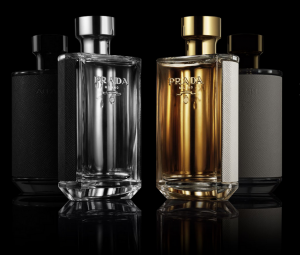 Prada in 2019
Just recently, Miuccia Prada presented a men's collection that took as its starting point the story of Frankenstein, Mary Shelley's monstrous, rejected, lovesick antihero. In its show, Prada included a smattering of women's looks from her Pre-Fall collection which included crystal-embroidered shirt dresses constrained by leather harnesses, combinations of graphic rose prints, wacky lightning bolts, and loose-gauge knits. In their quirky and bold juxtapositions of pedigrees, details, and textures, those clothes were indeed "Frankensteinish" and all the more compelling for it. Indeed, it was a fearless decision on Prada's part to show a women's collection that did not come as a total surprise to its audience. In fact, there are many people who love Prada because they want to be gobsmacked, dazzled, schooled, and basically aesthetically woken up in the slumber that is Fashion Month. 2019 saw a Prada collection that continued to posit romance in all its aesthetic gestures (lace, flowers, hearts, fairy-tale capes, and glittery red shoes) as a way to both soften and deepen the tropes of utilitarianism through uniforms, puffers, cargo details, pole climber boots, backpacks.
Iconic Perfumes
Prada launched its first fragrance in 2003 and has since created some of the most recognised and celebrated perfumes in the beauty industry. Offering men's, women's and unisex fragrances, Prada has become a household name for perfume. In this guide, we highlight some of the most-loved Prada fragrances including classics such as La Femme, L'Homme and the ever-popular Candy.
---
Prada Candy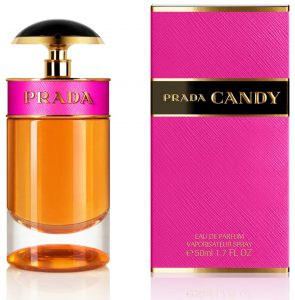 Launched in 2011, Candy is one of the brand's most famous feminine scents. With a focus on using exceptional ingredients in generous proportions, Candy is instantly recognisable. Famously sweet, the addictive scent is made up of a cocktail of feminine white musk and caramel notes which evokes vanilla and honey. A perfect choice for the modern women!
---
Prada L'Homme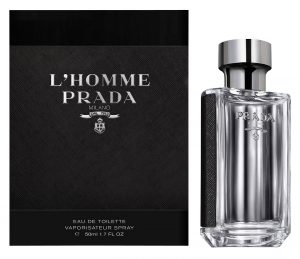 This fragrance came out in 2016, L'Homme has been designed as a modern interpretation of the brand's signature amber and iris scents. It is a fresh, clean fragrance, sitting on a base of neroli and patchouli, and the iris and amber accords give the fragrance a powdery, floral dimension.
---
Prada Les Infusions de Prada Rose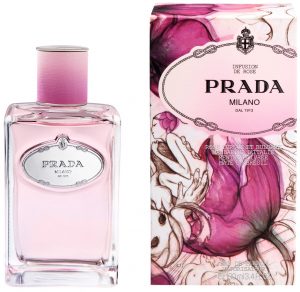 A contemporary twist on the classic rose fragrance, Les Infusions de Prada Rose is a good choice for those who love floral scents. It is a unisex fragrance that combines Turkish and Bulgarian roses with neroli, mandarin and galbanum for a refreshing scent which is both exotic and fresh, thanks to the addition of mint accords.
---
Prada Luna Rossa Carbon fragrance
Prada Luna Rossa Carbon explores both botanical and synthetic notes in this masculine fragrance. Metallic notes of lavender are brought to the fore with citrus bergamot, patchouli and dry amber. Fresh, aromatic, cool and clean, it is a versatile, masculine fragrance.
Read this post in

Arabic