Read this post in

Arabic
Initiated to fashion by his great grandmother Nina and to perfumery by his grandfather Robert (creator of the famous « L'air du temps »), Romano has been surrounded by fashion and creation since childhood. Grateful to his family heritage, Romano Ricci also wanted to prove he could succeed by himself and express his own universe. He apprenticed in the perfumery world for 4 years, learning amongst the greatest, and then persuaded Francis Kurkdjian, the master of perfumery, to work with him and launched his own brand Juliette has a Gun in 2006.
In May 2011, the French Fragrance Foundation has honored Romano Ricci with the "Special Prize of the Board" at "Les Parfums 2011" (FiFi Awards). Tradition with a zest of provocation, Romano is restoring perfumes to what they should always be: emblems of style and originality.
Portrait Of A Brand
Such as olfactive portraits the Juliette has a Gun perfumes are designed like different facets of a strong personality. Each fragrance, dedicated to women, carries its own story-telling, its own world and its own particular attitude on a liberating, sassy tone that's tinged with humour, breaking away from the "ingredients" codes of niche perfumery. Inheriting an important tradition, Romano Ricci, the creator, has freed himself of market habits to offer perfumery that is upscaled yet uninhibited, spontaneous and bursting with humour, all with an absolute respect for high qualities (originality, material concentration, stability, product experience).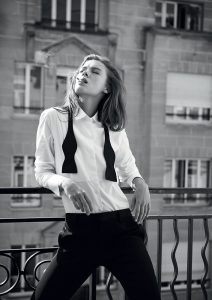 Who Is Juliette?
From NYC to Paris, Moscow or Sydney… Juliette intrigues the world. Armed with her perfume, the Shakespearian
heroine goes wild. Life is too short, and pleasures too many, says Juliette. The Gun, metaphor for the perfume, weapon of seduction, or simple accessory of bluff, essentially symbolises the liberation of women towards men. And sometimes with a taste for revenge… But the concept is also influenced by romanticism. A modern version, where reinventing couple and femininity is a constant quest.
Read this post in

Arabic