Read this post in

Arabic
 With more than four decades of experience in the domain of perfumery, Christian Provenzano,  one of the world's leading creative perfumers, currently associated to CPL Aromas reviews the latest perfumes of the season
212 VIP Rose By Carolina Herrera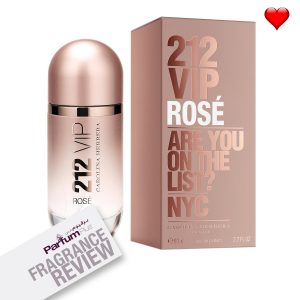 212 Vip Rosé is an essence of femininity, charm and freedom. This unique fragrance reveals the charm of champagne, with fresh and fruity touch.
Notes:
Top: 

Champagne, Fruity Notes


Heart: 

Peach Blossom


Base: 

Woody Notes, White Musk, Amber
Perfumer's remark: Beautiful blend of fresh floral fruity profile, which exemplifies sensual and elegant personality of lady. Modern fragrance!
---
Sillage:
[icon name="star" class="" unprefixed_class=""][icon name="star" class="" unprefixed_class=""][icon name="star" class="" unprefixed_class=""][icon name="star-o" class="" unprefixed_class=""][icon name="star-o" class="" unprefixed_class=""]
Longevity:
[icon name="star" class="" unprefixed_class=""][icon name="star" class="" unprefixed_class=""][icon name="star" class="" unprefixed_class=""][icon name="star-o" class="" unprefixed_class=""][icon name="star-o" class="" unprefixed_class=""]
READ MORE
---
Luna Rossa Carbon for men by Prada
Le Jour Se Lève By Louis Vuitton
Lady Million Lucky By Paco Rabanne
Fleur de Musc EDP by Narciso Rodriguez
Divine Decadence EDP by Marc Jacobs
L'Extase Rose Absolute EDP by Nina Ricci
Luna Rossa Carbon for men by Prada
J'adore in Joy by Christian Dior
Read this post in

Arabic