Juicy, sparkling and intensely joyful, Prada Candy Gloss is a sensual sorbet. It is the fifth fragrance of the playful gourmand collection Prada Candy.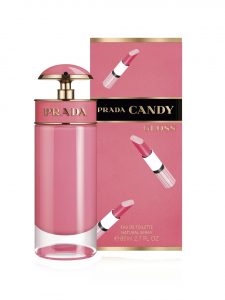 Notes:
TOP: 

Sour Cherry, Cassis




HEART:

 Orange Blossom, Rose, Peach




BASE: A

lmond, Vanilla, Musk
Perfumer's Remark : A very gourmandy accord. To be honest, I am not sure if you should wear it or drink it!!
Sillage: 
[icon name="star" class="" unprefixed_class=""][icon name="star" class="" unprefixed_class=""][icon name="star" class="" unprefixed_class=""][icon name="star-o" class="" unprefixed_class=""][icon name="star-o" class="" unprefixed_class=""]

Longevity:
[icon name="star" class="" unprefixed_class=""][icon name="star" class="" unprefixed_class=""][icon name="star" class="" unprefixed_class=""][icon name="star" class="" unprefixed_class=""][icon name="star-o" class="" unprefixed_class=""]