Currently the most popular perfume line from Dior, J`Adore launched this new edition as an epitome of  joy, love and fun, bottled to represent spring in all gaiety.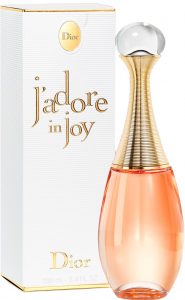 Notes:
TOP: Sea Salt




HEART: 

Jasmine Sambac, Neroli, Tuberose, Ylang-ylang 




BASE: Peach
---
Review by Christian Provenzano
Perfumer's Remark : Probably the 14th 'J'adore' launch and I still prefer the first one!!
Sillage:
[icon name="star" class="" unprefixed_class=""][icon name="star" class="" unprefixed_class=""][icon name="star" class="" unprefixed_class=""][icon name="star-o" class="" unprefixed_class=""][icon name="star-o" class="" unprefixed_class=""]


Longevity:
[icon name="star" class="" unprefixed_class=""][icon name="star" class="" unprefixed_class=""][icon name="star" class="" unprefixed_class=""][icon name="star-o" class="" unprefixed_class=""][icon name="star-o" class="" unprefixed_class=""]