13, Rue De La Paix is the address is where the world's first name in luxury houses itself, Cartier, which is known for its extravagance, iconic designs and of course adherence to the highest standards of quality
When Louis-François Cartier inherited his master's business and gave the business his name who knew that was the start of one of the most famous and eminent brands in the world. Cartier began as a family business, with Louis-François's son Alfred being the gemstone genius. Later, Alfred took over from his father. But it was the founder's trio of grandsons – Pierre, Jacques, and Louis – who led the house into a magnificently stylish new era.
Irresistible and preferred by all the women of royalty in the 17th and 18th centuries, Cartier received honours in the upper bourgeois society. The very first VIP client for Cartier was Princess Mathilde, Napoleon's stylish niece, who bought brooches and cameos. The Empress Engénie followed. But by the start of the 20th Century, Cartier was renowned for its stunningly intricate designs – often light and lacy – conjuring up garlands, bows, flowers out of platinum and precious stones.
Queen Alexandra. Queen Mary. America's foremost heiresses, including Consuelo Vanderbilt and Marjorie Merriweather Post all, flocked to Cartier. King Edward VII of Great Britain referred to Cartier as 'the jeweller of kings and the king of jewellers.' For his coronation in 1902, Edward VII ordered 27 tiaras and issued a royal warrant to Cartier in 1904. Similar warrants soon followed from the courts of Spain, Portugal, Russia, Siam, the House of Orleans, and so on.
Louis Cartier is also credited with the creation of the wristwatch. An interesting piece of history lies at the heart of this invention – in 1904, Brazilian aviator and Louis's long-time friend Santos-Dumont complained to him about the inconvenience he faced trying to look at his pocket watch when flying. Calling the pocket watches dangerous, impractical and unreliable, he fretted over how to be able to tell the time correctly when he was flying. The problem appealed to Cartier and was soon solved in the form of a flat wristwatch with a distinctive square bezel, from then on known as 'Santos'. The watch was hugely popular and remains so to date.
Not one to rest on his laurels, Louis once again had the jewellery world in a tizzy in 1906 with the latest, avant-garde range of jewellery with exotic Art Deco jewels which had cubism and abstract art at the heart of its theme. 1912 saw the invention of the 'Mystery clocks' by Louis. These timepieces have fascinated generations of Cartier jewellery aficionados – their hands seem to float in space and are apparently unconnected to the machinery. In 1914, the panther motif became synonymous with Cartier with its splendid pieces in black onyx and diamonds becoming the rage with royalty and celebrities. The famous Trinity ring saw its conception in 1924 – a singular piece of jewellery with a unique, fun design – three intertwined bands of pink gold, yellow gold, and platinum.
Working alongside the Cartier men was a daringly modern woman named Jeanne Toussaint. She made her mark, in the 1930s. 'Muse' to Louis Cartier, she sent the designers to the zoo, to observe the big cats capturing their feline power in collections of panther and tiger jewellery. The Duchess of Windsor commissioned a 3-D panther brooch, in 1948, with a 116.75-carat cabochon emerald at its heart.
The list of people who owned and loved Cartier did not stop there. Richard Burton gave Elizabeth Taylor a flawless precious 69.42 carat pear-shaped stone, Prince Rainier of Monaco chose Cartier to create the 10.47 emerald cut engagement ring, for his proposal to Grace Kelly.
Recognising exotic perfumes as a sign of royalty, Cartier launched its range of exquisite perfumes in 1938, under the brand of Parfums Cartier. True to its legacy of fine jewellery, Parfums Cartier is replete with unique fragrances in jewelled bottles, a stamp that is uniquely Cartier. Cartier's lighter literally had the crème de la crème of the world on fire in 1968. 1974 saw Cartier take the leather industry by storm, with its launch of the Must De Cartier leather accessories line which made Bordeaux the new black. In 1981, the Must De Cartier came with a refillable perfume holder – after all, it would be insane to think of discarding a Cartier object of art.
More than 150 years after its inception, Cartier rules the luxury goods world – jewellery, watches, leather goods, fragrances, scarves, pens, lighters, and eyewear – an unbelievable array of the most fabulous pieces. Cartier, a brand that needs no introduction, is truly the 'King of Jewellers'!
Let's have a sniff of some of the majestic collections of Cartier in perfumery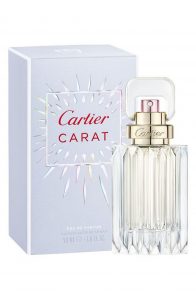 Carat: Cartier's love for diamonds in its designs is not unheard of. This fragrance is an interpretation of diamonds – simply put it is luxury encapsulated in a bottle. The beautiful composition shines with its blend of pleasure and freshness. Not just the fragrance, the composition also captures the optical diffraction, a signature trait of diamonds. Truly a masterpiece created by their in-house perfumer- Mathilde Laurent.
Top: Pear, Bergamot, Green Notes
Heart: Violet, Lily, Hyacinth, Ylang-Ylang, Narcissus, Honeysuckle, Tulip
Base: Mimosa, White Musk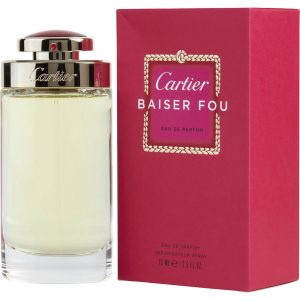 Baiser Fou: This beautiful fragrance is part of the 2011 Cartier collection inspired by Kisses but it came out much later in 2017. The name literally translates to 'Crazy Kiss' hinting at a mischievous composition. The idea of the scent is to evoke the emotion and comfort associated with a kiss by a loved one. Once again, Cartier reaches out to those who love luxury with this fragrance. The bottle is transparent with gold accents. The head-turner, however, is the gold stopper adorned with an intense ruby top.
Top: Raspberry
Heart: Orchid
Base: White Chocolate, Vanilla
And now for the men…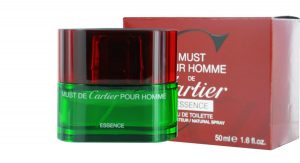 Must de Cartier Pour Homme: This is an oriental fragrance for men. Nathalie Feisthauer is the nose behind this spicy creation which was added to the Cartier collections in 2001.
Top: Coriander, Carnations, Green Mandarin, Grapefruit, Anise, Bergamot, Olive Leaf
Heart: Ginger, Cinnamon
Base: Sandalwood, Tonka Bean, Patchouli, Musk, Vanilla, Vetiver, Cedar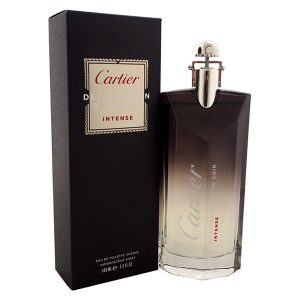 Declaration d'Un Soir Intense: Another classic Cartier fragrance, this one is designed for those who are connoisseurs of style and love female attention. The composition is enhanced by a blend of pepper, sandalwood, and musk.
Top: Black Pepper, Pink Pepper
Heart: Rose, Nutmeg
Base: Sandalwood, Musk