In 1980, Yves Saint Laurent bought a villa and tropical garden created in the 1930s by the artist Jacques Majorelle in Marrakech, renaming it "Villa Oasis". Over the years, he turned it into a haven of peace and creation: paradise found. The tropical garden offered a fabulous palette, its vibrant natural hues made more vivid still against the ultramarine Majorelle blue of the French painter's villa. Its flowers spilled over the motifs of his dazzling embroidered capes and flamboyant dresses. Inspired by this Moroccan Eden, Yves Saint Laurent invented the fervid Orientalist dream that would revolutionize couture.
Today, his heritage lives on at the foothills of the Atlas Mountains in the Ourika Gardens. An oasis for YSL Beauté where its most iconic ingredients are grown by a collective of Moroccan women.  A living tribute to the couturier's passionate love for his adopted land.
To turn this vivid vision into scent, the perfumer Amandine Marie composed a delicately shimmering Oriental accord drawn from the treasures of the oasis. An expression of the sweet sensuality discovered by Yves Saint Laurent in his Moroccan paradise.
Under the vibrant light of a Majorelle-blue sky, sweet Orange blossom fill the air with scent in springtime, its tiny fragrant stars shining against the bright green leaves of the garden.  Picked at dawn when it is still embroidered with pearls of dew, it offers two fragrant incarnations in Atlas Garden.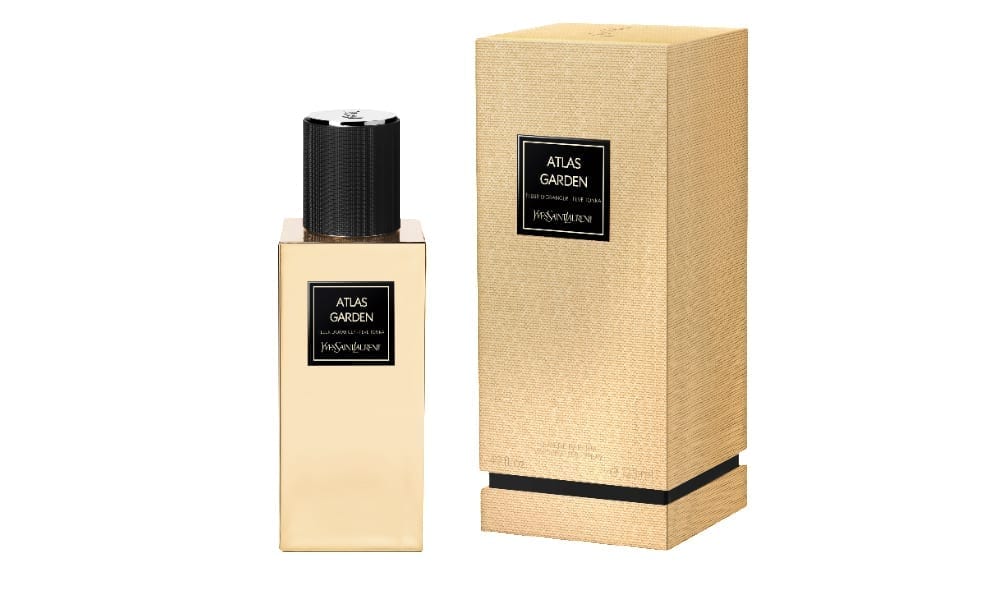 First, its essence- sparkling neroli. Then the more suave and carnal absolute.This exhilarating floral accord, so evocative of Morocco where orange blossom water is part of every hospitality ritual, blends with another gift of the desert.
Traditionally called "the finger of light" for its ambery translucence, the Deglet Nour date inspires the addictive heart of Atlas Gardens, its honeyed facets melting into the sweetness of the orange flower and almond-scented tonka bean absolute.
Like a ray of light through the tall shady palms of the Villa Oasis, a creamy solar accord wraps this Oriental delight. Silken and salty as sun-warmed skin, Ambrox weds scent to flesh in the drydown.
An addictive Oriental dream, inspired by the languid reveries of the couturier who turned women into Matisse odalisques
" I wanted to recreate the dream of wandering in a palm tree plantation with a spectacular view on the landscapes of the Atlas Mountains: a breeze of orange trees in blossom and the lushness of fresh, tasty dates…..A journey under the Moroccan sun for the pleasure of the senses." – Amandine Marie, perfumer at Firmenich