Read this post in

Arabic
From the declaration of self-expression and fearlessness embodied in the idea of #ForeverGuilty, the Gucci Guilty fragrance story opens a new chapter, for men
A modern reinterpretation of a classic cologne – a centuries-old Italian scent, Gucci Guilty Cologne is created with a contemporary dry down featuring noble woods notes and powerful citruses.
The Cologne
Part of Italian scent making history, cologne was first invented in the XVII century by Jean Paul Feminis, an Italian perfumer living in Germany who re-blended an original fragrance created by Florentine monks, adding Italian neroli essential oil, bergamot and orange. The formula was passed onto his work assistant Jean-Antoine Farina who named the scent : Cologne, in honour of the city where he and Jean Paul Feminis used to live.
A new rendition of a traditional Italian cologne blend ideated by Alessandro Michele, Gucci Guilty Cologne features an intense aromatic personality with an unexpected dry down, conveyed through sensual woods notes. Master perfumer Alberto Morillas, modernized the freshness of a traditional cologne by balancing
natural aromatics with the standout vibrancy of Italian citruses.
In the top notes, bergamot sourced from Calabria adds a luminous layer to inherently masculine rosemary and juniper berries essences. The Mediterranean olfactory narrative continues with an intense heart of Spanish cypress essence, its heady resinous tones uplifted with elegant floral notes including heliotropine and violet. Alberto Morillas unveils Gucci Guilty Cologne's enigmatic newness in the cologne's dry down. Sensual noble woods notes diffuse slowly on the skin, developing with patchouli leaves and the warmth of cedarwood with crystalline white musks.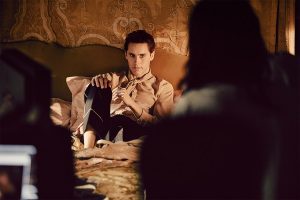 The Campaign
Jared Leto returns to star in Gucci Guilty Cologne's campaign. Captured in a quintessential American setting, photographer Glen Luchford shows the Academy Award-winning actor and musician reclining in a retro beauty salon. Shot amongst vintage objects inside the parlour—hair curlers and pins—a still shot of the
bottle shows the scent's distinct pale green colour.
The Bottle
Reprising the same slender, elegant silhouette of the Gucci Guilty Pour Homme bottle, the design's heavy glass is left transparent to celebrate the light green tinted scent. The bottle is topped with a silver cap and is packaged in a matching green outer carton printed with a silver interlocking G.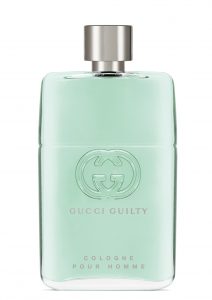 Launched In :
2019
Perfumer :
Alberto Morillas
Notes : 
Top : Calabria Bergamots, Rosemary, Juniper Berries

Heart : Spanish Cypress, Violet, Heliotropine

Base : Patchouli Leaves, Cedar, White Musk
Read this post in

Arabic