At the International Exhibition Of Raw Materials For Perfumery in Paris, Firmenich proudly unveiled its Sharing Innovation 2019 Collection of ingredients on 05 June, 2019 at Simppar
The collection, unveiled at the event, of eight ingredients represents Firmenich expertise in extraction technologies, sustainable sourcing, green chemistry and new floral muguet notes, with two new bases containing two breakthrough captive muguet molecules.
Armand de Villoutreys, President, Perfumery & Ingredients stated, "Each year, our Sharing Innovation program gives perfumers around the world access to select Firmenich signature ingredients. This year, we've focused on new technological and creative advances in citrus, orris and muguet."
"Tetrarome® uses an established and exclusive processing technology that delivers citrus ingredients with unique olfactive profiles; Orriscience is a new innovative processing method for orris rhizomes; and Beyond Muguet bases feature TILLENAL® and MIMOSAL®, two captives recently introduced in our creation palette," explained Julien Firmenich, Vice President Sales, Ingredients, Perfumery.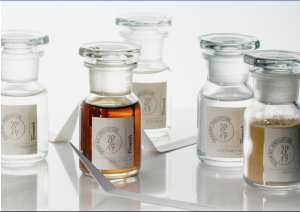 At the cross road of natural extraction and science in citrus technologies, TETRAROME® is a unique range of clear concentrated lemon, orange or mandarin with unique and desirable gourmand characteristics. Exceptionally rich in volatile notes and long lasting effect, with good solubility and stability, these cost efficient ingredients can be used both in flavour or perfumery compositions.
Born from Firmenich's latest innovation in orris root processing, the brand new ORRISCIENCE range offers the traditional powdery, floral, elegant and creamy notes of orris concretes with a long lasting effect. ORRISCIENCE delivers all the rewards of a scientifically designed ingredient in all categories, and performs incredibly well in perfume but also flavour creation.
After the successful launch to market of LILYFLORE® in 2016, and HIVERNAL® NEO in 2018, this year Firmenich celebrates the entire collection of muguet molecules.
BEYOND MUGUET is a brand-new creative approach around muguet notes. This explorative work opens up new emotions and new territories for fresh and transparent floral notes. Proposing not only one solution but a series of seven ingredients, including three captive molecules, Firmenich offers two news bases, BEYOND HIVERNAL® and BEYOND LILYFLORE®, in order to push the boundaries of creativity and to offer a new angle to tell the story of transparent floral notes.
The complete Sharing Innovation 2019 collection includes HIVERNAL® NEO
FRUCTALATE®
BEYOND HIVERNAL®
BEYOND LILYFLORE ®
ORANGE TETRAROME®
LEMON TETRAROME®
ORRISCIENCE 8 IRONE
OUD ASSAFITM.
---
About Firmenich
Firmenich is the world's largest privately-owned company in the perfume and taste business, founded in Geneva, Switzerland, in 1895. Driven by its purpose to create positive emotions to enhance wellbeing, naturally, Firmenich has designed many of the world's best-known perfumes and tastes, bringing delight to over four billion consumers every day. Renowned for its world-class research and creativity, as well as its leadership in sustainability, each year, Firmenich invests 10% of its turnover in R&D to understand and share the best that nature has to offer responsibly. Firmenich had an annual turnover of 3.7 billion Swiss Francs at end June 2018.