Read this post in

Arabic
Coming from a creative background, Malle's decision to embrace the art of making fragrances is anything but surprising. The star perfumer has a knack for using uncommon ingredients to create mesmerising potions. This edition we take a look at the journey of the man and the brand…
 Born in Paris, a city revered for being the seat of art and creativity by many, Frédéric Malle's inkling to pursue a career in the creative side was evident at an early age. But the tryst with perfumery came in a little later. Malle comes from a family of people who were already into various domains of the creative field. It is quite likely that young Malle was surrounded by a regular influx of creativity since his early days itself. This may have been one of the reasons that led him to pursue the line himself. In fact, as one goes through his incredible journey of growth, you will realise that his association to perfumery was never new.
The creative lineage:
Before we delve deeper, let us take a look at the initial days of the now so famous perfumer. Malle is the son of Marie Christine Hetfler-Louiche and Jean-François Malle. Marie was the former Art Director at Parfums Christian Dior. His father was a film producer who worked alongside his brother, director Louis Malle. In addition to his parents, Malle's maternal grandfather is Serge Heftler-Louiche who in 1947, created the Parfums Christian Dior line for the fashion house with the launch of the perfume Miss Dior.
In spite of this rich legacy, Malle's entry into perfumery was not obvious, at least at that time. The young Malle was more interested in marketing and art direction side of perfumery. Simply put, he was more interested in how the product is being presented than actually curating the composition. The faint connection to perfumery had just begun. Malle wanted to learn, his persistence led him to pursue the course at New York University as well where he specialised in Art History and Economics.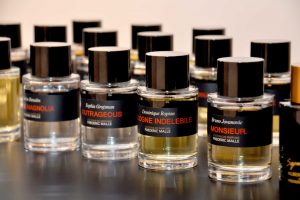 The journey to perfumery:
Marketing and art direction was not Malle's calling and he was going to realise this soon. Upon graduating, he worked for several photographers before moving into advertising. He was then offered the role of becoming Jean Amic's assistant at Roure Bertrand Dupont, a company that creates the raw materials used in perfumery. After a short stint in UK, Malle returned to France hoping to pursue a career as an agent coordinating between perfumers and marketing professionals. Sadly he found little success.
Later, Malle consulted for Hermès under Jean-Louis Dumas, before doing the same for Christian Lacroix at LVMH. During his time with Dumas, Malle was sent to perfumery school for two months where he learned from perfumers such as Françoise Caron, Edouard Flechier & Jean Guichard. This was the beginning of his interest in perfumery. Soon after, Malle went on to launch his own perfume house Éditions de Parfums Frédéric Malle.
The perfumer with a difference:
Malle did not create the perfumes for Editions de Parfum Frédéric Malle, instead he acted as an 'Editor'. Yes! The editor who worked alongside the perfumer to create the right fragrance. The creative process at this place usually started with a conversation between Malle and the perfumer. There was never a formal brief. His inputs for a fragrance varied. For instance, while working Dominique Ropion's Carnal Flower, Malle smelled 690 different iterations. Malle's idea of the perfect perfume is to ensure that it has no superfluous ingredient. He has always insisted on giving perfumers the credit for their creations by including their names on the bottles and boxes.
The house launched in 2000 with nine perfumes, amongst these was Le Parfum de Thérèse by Edmond Roudnitska. Whilst Roudnitska passed away in 1996, Le Parfum de Thérèse was a perfume he had initially created in the 1950s for his wife Thérèse, who was the only person allowed to wear it. Following Roudnitska's death, Thérèse passed it on to Malle to ensure that it would be remembered. In January 2015 Editions de Parfum Frédéric Malle was sold to Estée Lauder for an undisclosed fee. By November 2017, the house had 29 perfumes created by 16 different perfumers.
And the perfumes…
Dries Van Noten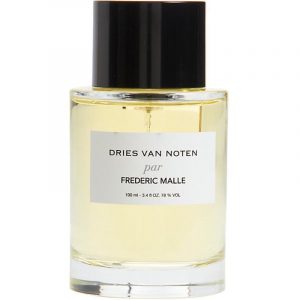 His ode to the biting winters in Van Noten's native Belgium, Dries Van Noten par Frédéric Malle is a blend of vanilla, nutmeg and sacrasol. The notes are a blend of sugary – buttery smell, that evokes the warmth of emotions to soothe the soul in winters.
Portrait of a Lady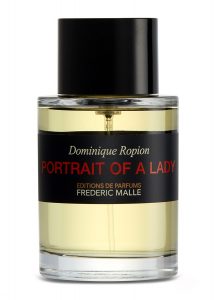 This perfume is created by Dominique Ropion in association with Frédéric Malle. The perfume gets its name from an old James Henry novel. Notes of this mesmerising scent include Turkish Rose, raspberry, black currant, cinnamon, clove, patchouli, sandalwood, intense, ambroxan, benzoin and white musk. The beautiful blend encapsulates the modern, elegant yet unusual expression of a woman's quest for freedom.
Cologne Indelebile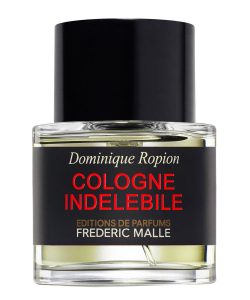 This is another fragrance by Dominique Ropion in association with Frédéric Malle. Musk is key ingredient in this one. The carefully curated composition captures the binary character of musk producing a perfume that is both innocent and irresistible. It is a beautiful split between a clean cologne accord of lemon, bergamot and orange blossom, and a seductive white musk accord.
Read this post in

Arabic