Mastery in perfume making is only attained by a selected few. With years of experience, consistency and perseverance, Fragomatrix has mastered this art and has been undisputed for nearly seven decades now…
Fragomatrix, one of India's largest manufacturers and exporters of all natural floral extracts, Indian essential oils, spice oils, concrete and industrial perfumes, was one of the prominent exhibitors at the Beauty World Event, held in Dubai recently. The stall attracted huge crowds, not just because of its distinct design and prominent placement, but also because of its high end image that it has built for itself as a fragrance house. Fragomatrix specialises in creating fine fragrances and award-winning oriental fragrances with the expertise of their master perfumers from the family.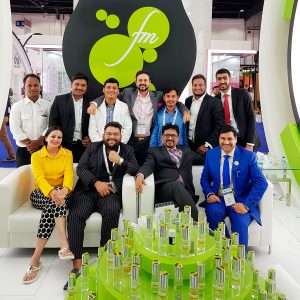 Master perfumer & director, Puneet Jain, is a third-generation perfumer in his family. With his vast knowledge and deep devotion for creating perfumes, Puneet has made Fragomatrix one of the most preferred companies by the brands of nearly 32 countries worldwide. Fragomatrix has eight manufacturing units across India. They have factories at Kannauj and Aligarh in UP, two factories in Silvassa and one each in Ganjam, Orissa, Tamilnadu and Surat. They also have state of the art laboratories in Silvassa and Mumbai.
With a strong base of Indian natural essential oils namely Zaffran, Amber, Dehn Al Oudh, etc, they are catering to the demands of various manufacturers not only in the UAE but across the Gulf and MENA region. They are well known to create sprays, room fresheners, aerosol, deodorant, bakhoor, dakhoon and concentrated oil roll-ons.
Fragomatrix has inherited the family tradition of over 65 years which has given the team a thorough understanding of perfumes and its raw materials thus, winning the hearts of the people and becoming an integral part of its success story.