Read this post in

Arabic
Here's a treat for perfume aficionados. Master perfumer, Roja Dove shares his insights on their upcoming collections and the interesting stories behind each of his perfumes
 Memories of love and strong motivations to discover the sensuality of the world in new and surprising ways — that's where Roja Dove's passion for scent stems from, making him one of the most respected perfumers in the world.
With the firm belief that every fragrance has the potential to unlock dreams and rekindle memories, Roja Dove weaves his artistic magic to create perfumes that never cease to amaze. Each fragrance under the Roja Dove banner is an encapsulation of the perfumer's journey and carries his secret discovery. In this edition, ParfumPlus talks to Roja Dove to get an insight into his creations, philosophy and mesmerizing perfume stories.
PafumPlus (PP): Philosophically "only the best will do" is what you have quoted many times. What inspires you to reach up to these highs in each of your creations?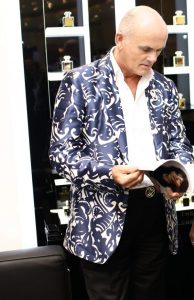 Roja Dove (RD): This passion to prioritize quality is rooted in my childhood; thanks to my mother. Ever since I was a little boy, she ensured that I never got the good things in life easily. For instance, if I liked a bag, my mother would always ask me to earn it instead of simply buying it for me. So, if I really wanted something, I would go to mom or dad, help them with the household chores and earn my way to whatever I liked. This way, I learned to value the importance of quality in all things that I own and the same philosophy has been imbibed in my Roja Parfums too. I ensure I use only the top quality ingredients in all my perfume creations.
PP: Are there any special memories from the starting days that you would say moulded you to be what you are today?
RD: There are, of course. One particular incident that I recall now, laid the foundation for one of the key qualities that you see in every Roja perfume.
When I was around 18 years old, studying in Cambridge, I remember walking into a very popular store and saw a beautiful shirt. I had no idea what the material was which the shirt was made of but it caught my attention, and I just had to have it. It cost me three weeks worth of my earnings to buy this shirt. I felt like a king when I wore it for the first time. It was made of the finest Silk Crepe de Chine.
That's when I decided, even my perfumes should be such that when anyone uses them they should feel special.
You would see, even for my perfume bottles, we give a lot of importance to design. The boxes are handmade, with Swarovski crystals embedded on the cap and so much more details that beautifully convey the element of luxury. After all, you see, luxury is all about little things that you may not need to do but you would still desire to do.
PP: What about your perfumes? Do they too all have stories behind them?
RD: My perfumes have been inspired by my life's journeys. For example in 2011, I went to Russia, I had the privilege to have a private tour inside the Kremlin. At that time Russia was a closed country and it was indeed an honour to have been able to visit the place. I was fascinated by the two-headed imperial eagle, a symbol of the Russian Czars. When I decided to re-launch my perfume Diaghilev, the design of the box in which I placed the bottle had the imperial eagle on the side, a creative nuance inspired by my visit to Russia.