Launched in 2017, this scent as is vibrant as a woman's smile! Not just a multi-faceted bottle, but a sprinkle of happiness. This is La Vie Est Belle L'ÉCLAT for you!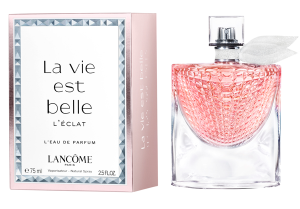 Notes:
Top: Bergamot, Mandarin Orange, Freesia
Heart: Orange Blossom, White Flowers, Jasmine Sambac, Iris
Base: Sandalwood, Vanilla, Patchouli
---
Review by Christian Provenzano
Perfumer's Remark : A beautiful sparkling and elegant floral fragrance with a hint of sweetness. Definitely a winner!

Sillage :
[icon name="star" class="" unprefixed_class=""][icon name="star" class="" unprefixed_class=""][icon name="star" class="" unprefixed_class=""][icon name="star" class="" unprefixed_class=""][icon name="star-o" class="" unprefixed_class=""]

   
Longevity :
[icon name="star" class="" unprefixed_class=""][icon name="star" class="" unprefixed_class=""][icon name="star" class="" unprefixed_class=""][icon name="star" class="" unprefixed_class=""][icon name="star-o" class="" unprefixed_class=""]