Sir Elton John fancies the scent of Royal Water by Creed
Sir Elton Hercules John, is an English singer, songwriter, pianist, and composer known and praised worldwide. John has sold more than 300 million records, making him one of the world's best-selling music artists. He has more than fifty Top 40 hits to his name, along with seven consecutive #1 albums, around 58 Billboard Top 40 singles and more than 27 Top 10 singles.
Elton is a worldwide sensation. He is known for his music, as well his quicky choices of public-appearance outfits, and fashion sense. John may have an unconventional choice of outfits, but his choice of perfumes is top-notch. He loves to wear Royal Water by Creed.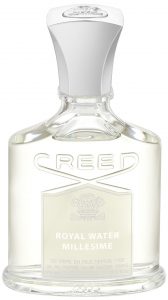 The perfume is said to be liked by the royal men and women because of the fresh notes and sensuality lingering out of every spray. Oliver creed sixth generation is the nose behind this perfume which was launched in the year 1997. Citrus infusion with peppermint is the best combination that truly defines this scent. Creed's exceptional launch which is liked by both men and women and is still playing favourites for some.
Notes:
Top: Citruses, Mint
Heart: Juniper Berries, Basil
Base: Musk, Ambergris