Read this post in

Arabic
ParfumPlus always seeks pleasure having conversations with the people who love what they do. In conversation with Philippine Courtiere and Hamid Merati-Kashani from Firmenich, talking about their passionate experiences…
With a strong experience and profound knowledge of oriental consumers, Hamid Merati-Kashani brings over 30 years of craftsmanship to create some of the region's most famous fragrances. On the other hand, Philippine Courtiere, a young talented French perfumer, with endless imagination and aptitude breaks the codes of traditional perfumery.
The combination of these architects of scents coupled with the unique Firmenich captive ingredients in their pallet allows, the Fragrance house, to tailor to all clients' needs in the region. Working closely with their international network of renowned perfumers such as Olivier Cresp, Nathalie Lorson or Alberto Morillas to name but a few, Hamid and Philippine are known to fashion some exceptional perfumes that reveal some of the most exclusive natural raw materials, that the company receives from a network of producers around the globe nurtured with care and passion. (Please visit www.firmenich.com/naturals together).
ParfumPlus (PP): From law to perfumes, that is like a 180 degree shift. Not that it is unexpected, since your parents were already in the industry. However, why then did you want to pursue law in the first place and then what made you retract and follow your parents' footsteps?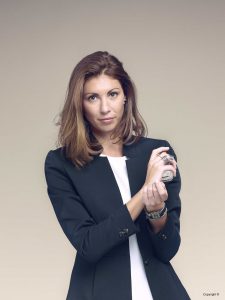 Philippine Courtiere (PC): As a young woman looking for her independence I first intended to follow my own path. I had been studying law for two years before I realised I wasn't very excited about it. My parents were both working for perfume brands and were deeply involved in fragrance development. They were connected on a daily basis with perfumers and I could feel the passion behind the perfumer's craftsmanship. For each internship I was supposed to have during my law studies I asked a fragrance house to welcome me! This is how I began my experience in fragrances.
ParfumPlus (PP): You love to describe yourself as a person who is Iranian in education, and German in organization. Could you elaborate on that?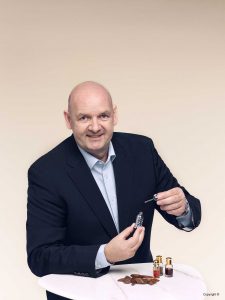 Hamid Merati-Kashani (HM): Born in Germany, I was raised in Iran between the ages of 2 and 14 before we moved back to Germany. The two distinctive cultures are deeply rooted in me, in my blood and education. The Iranian culture taught me respect within the family, the power of inherited family values from ancestors as well as hospitality. I remember luxurious, voluptuous, colorful atmospheres with exhilarating sheer scents of the orient.
Back in Germany, I was exposed to a completely different culture that perfectly complemented the oriental one. My new education included rigor, hard work, and quest for excellence. I was surrounded by chemical engineers working for fragrance companies in the area. This fed my motivation to enter the exclusive world of perfumers. I remember the selection was very competitive. In Germany I discovered what democracy really meant.
PP:  Your association with one of the leading fragrance house in the region – Firmenich. How did that happen? How long have you two been with Firmenich. Your experience working for a privately owned company, the only one, so to speak among the top ones. How challenging and different has it been?
HM: I joined Firmenich in 1995 after 12 years with Dragoco where I was trained to become a perfumer. At that time, Dragoco was also a privately-owned company.
At Firmenich I was first based in Cologne where I spent 9 years before I moved to Brazil for 6 years. The Latin-American immersion also diversified significantly my skills as a perfumer.  Then, I was back in Geneva for only a year when I was presented with a new challenging opportunity in my career. Firmenich planned to open a new affiliate in Dubai. I confess my Iranian education was key to adapting and understanding the magic of fragrance heritage in the Middle East.
PC: I Joined Firmenich 8 years ago to officially start my olfactive training. I spent 3 years in our headquarters in Geneva, 6 months in New York mentored by Master Perfumer Honorine Blanc and then one year and a half in Paris mentored by Master Perfumer Nathalie Lorson, Fabrice Pellegrin and Christophe Raynaud.
Working for a privately-owned company is for both of us a privilege. Its independence allows Firmenich to invest every year over 10% of its turnover in R&D. This is how outstanding innovations enrich our palette of ingredients every day. Firmenich molecules enable us to push the boundaries of creativity further and explore new territories and establishing new  modern olfactive eras.
HM: At Firmenich, we also develop for our clients the most precious, innovative and sustainable natural ingredients. Throughout our Naturals Together initiative, the company partners with the best naturals producers to support smallholder farmers around the world who grow the natural ingredients that sublime our fragrance creations. We are proud to work for a company with the ambition to deliver the best that nature has to offer, by working hand-in-hand with farmers and producers.
PP: Philippine, from being brought up in Paris to living in Dubai. How has your lifestyle changed? Do
you marvel at where you find yourself today?
PC: I am extremely happy living in Dubai. I confess, I was so immediately thrilled by its dynamic atmosphere that I made no special effort to adapt to my new life. Dubai is so energizing. Everything is new, bigger, more beautiful, more creative. Its climate and incredibly rich culture is such a paradise for a perfumer…  My inspiration is constantly fed from
the abundance of the most
audacious ideas!
PP: Hamid, what was your reaction when you were uprooted from Brazil and sent to Dubai? What was your early impression of this place? As a perfumer?
HM: The fragrance world in Dubai cannot be compared to anything else. It is here that I first experienced how to design highly prestigious fragrances made with the most exquisite and powerful ingredients.
The challenge for me laid in overdosing extremely strong raw materials and finding the right balance. I feel proud to provide this prestigious fragrance market with my own creations and I feel particularly happy when I see how it now influences other market trends such as in Europe where addiction to precious local raw materials such as Oud is gaining in popularity.
PP:  Who are the perfumers you look up to, who have inspired you?
HM: I have always looked up to Firmenich Masters . Alberto Morillas, Harry Fremont, Honorine Blanc, Olivier Cresp and Eckhard Simbt. I profoundly admire them. And I also consider some of my clients as my mentors.
PC: I had the chance to discover my craft with Michel Almairac, Master Perfumer Honorine Blanc, Master Perfumer Nathalie Lorson, Christophe Raynaud and Fabrice Pellegrin. I have learned the secrets of perfumery under their mentorship.
Read this post in

Arabic