Read this post in

Arabic
Vanilla Vibes : A Hymn To Adventure and Freedom
Vanilla Vibes by Juliette Has A Gun, is the exhilaration of the unknown,
 the thrill of the first encounter, the memory of this very moment, sensual and electric, like the trail of the fragrance. 
Vanilla Vibes is a persistent beat of an olfactive dance, the flame under the ice, the alchemy of the opposites, an invitation to be yourself. Close your eyes and get transported across the immensity of the desert. Suddenly, she appears, voluptuous.
The natural vanilla reveals its aphrodisiac charms. She sets her heart on the sea salt, mineral, crystalline. Under the influence, he can't take his icy eyes off her. 
The encounter is symbiotic, electric, like the decibels that resonate far away.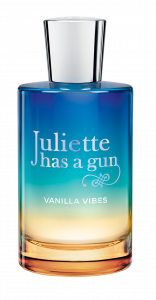 "I have been wanting to work with Vanilla for some time. 
Not being a huge fan of sweet notes, I needed to find a twist. I chose sea salt.
 This transports the Vanilla into a mineral dimension, far from being overwhelming, becoming suddenly more atmospheric, more elegant. Enjoy the trip!"
~ Romano Ricci
Olfactive Family: Ambery Fresh
Notes:

Top: Fleur de sel

Heart:
 Natural Vanilla Absolute, Orchid Absolute

Base: Sandalwood Absolute, Tonka Bean Absolute, Brown Musk,
 Bezoin Absolute
Read this post in

Arabic