Every year the French house of Fragonard chooses one flower as the Flower of the Year, offering numerous products based on the scent of this one specific flower. The flower for 2023 is NARCISSE.
With its hypnotizing beauty and heady perfume, narcissus symbolizes renewal and rebirth. Heralding springtime, it ends the reign of winter frost. Adorned with crystal-white flowers, it bedecks damp meadows with a scattering of snowy blooms.
There are wide varieties of narcissus, the most famous of which are the "poet's narcissus" (Narcissus poeticus) and daffodil (Narcissus jonquilla). Poet's narcissus is the variety most frequently used in perfumery, particularly for its sweet, heady fragrance, resembling jasmine.
THE WHITE GOLD: Narcissus grows in the wild at 1,000 meters above sea level or higher, preferably on fertile, well-drained, and slightly acidic or neutral soil. The flowers bloom from March to June, but the beginning and end of the harvest can never be predicted precisely: nature decides.
THE HARVEST: Narcissus picking on the Aubrac plateau (a volcanic and granitic plateau located in the south-central part of the Massif Central) is an ancient springtime tradition that continues to unite the local population. The flowers were gathered by hand in the 1950s, but the task became easier with the advent of various tools. Today, the "trolley" technique is favored by independent pickers as the trolley is easy to manufacture and can significantly increase yields, up to 100 to 200 kilos per day. The weighing technique is rustic yet resolutely here to stay – it is performed using Roman scales which "have never broken down and are never wrong."
EXTRACTION: The flowers must, if possible, be processed within 24 hours of the harvest so that they retain their freshness and fragrant properties.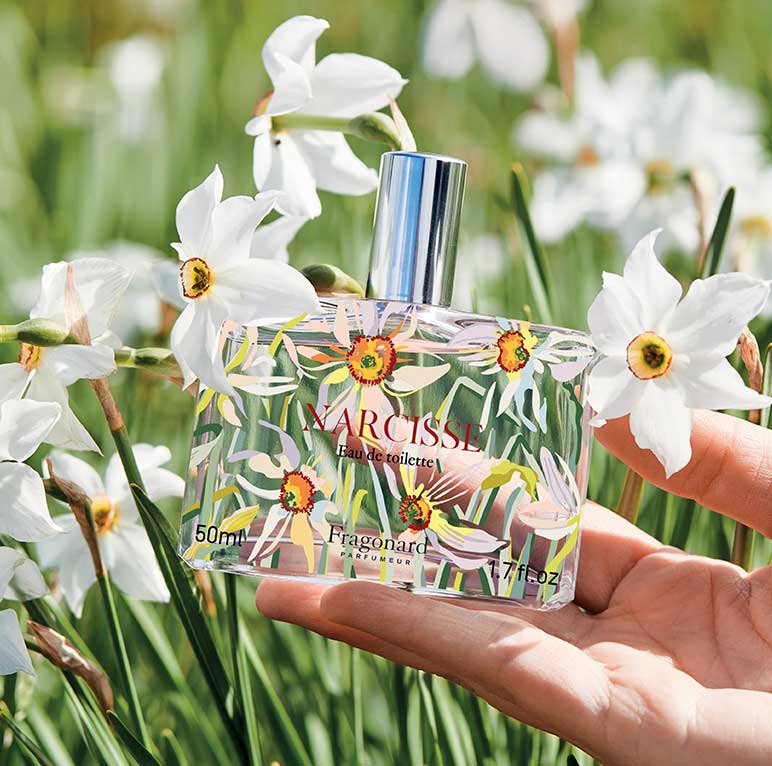 Perfumer KARINE DUBREUIL composed the newest fragrance for Fragonard, inspired by her childhood and "invigorating morning walks in her grandma's garden lined with narcissi, sparking precious recollections that encouraged her to interpret her 'ideal narcissus.' And that is how Narcisse by Fragonard was born: a very romantic fragrance bursting with idyllic beauty and as light as air."

"In the wild, narcissus exhales an extraordinary scent combining grass, earth, and the power of white flowers. Karine Dubreuil has embellished its sensual, floral fragrance with fresh, spring-like notes. Narcissus blooms in spring amid lush green grasses that have only just awakened after many weeks under the snow. The sun warms nature with its gentle rays, and in turn, our perfumer has sprinkled Narcisse with sweet, warm base notes of honey and wood…" – the Fragonard brand.

Karine Dubreuil's composition starts refreshing and uplifting, combining various citruses (tangerines, Italian bergamot, and petitgrain from Paraguay). The heart celebrates narcissus flowers, joined by Egyptian jasmine and Turkish rose, and laid on a bed with thick, sunny notes of honey, wood, and musk.
TOP NOTES:
Tangerine, Italian bergamot, Paraguay petitgrain
MIDDLE NOTES:
Narcissus, Egyptian jasmine, Turkish rose
BASE NOTES:
Honey, wood, musk