Read this post in

Arabic
'Fragrance Innovation Summit – Arabia 2018' is the only platform in the Middle & North Africa that aims to connect and empower 250+ decision-makers from the perfumery eco-system under one roof…
The Fragrance Innovation Summit – Arabia took place successfully from 09th – 10th December 2018 at the Address Dubai Marina hotel.
The summit hosted more than 150 registered delegates with widespread praise from speakers and audience members, for the intellectual quality of the presentations and the high-level networking opportunities provided throughout the two days summit. Delegates learned about scores of important use-cases which detailed Fragrance market successes and – equally important – drew vital lessons from local and international failures.
Practical illustrations were provided by experienced professionals from international and regional government, fine fragrance houses, Personal Care, IT, Logistics and E-commerce.
All presenters were recognized thought-leaders: senior specialists from IFRA, Dubai Municipality, Ajmal Perfumes, L'Oréal Middle East, University of Wollongong – Dubai, IFF, Seluz, CPL Aromas, and more.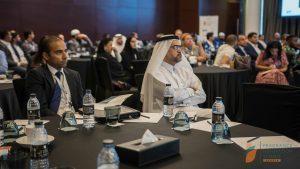 Among many comments received during the Summit are the following:
"A well-done event, congratulations. Thank you again for the invitation and looking forward to staying in touch."
Martina Bianchini, President – IFRA
"I thank you all for hosting such an informative conference. It was worth every single penny I spent. Well done!"
Shakeel Akhter, CEO – Salam Collections
"The conference was amazing in terms of networking and getting to know markets/people/information globally."
Leila Jerdea, CEO – LJ Group FZE
"It was indeed a wonderful and fruitful event. Especially, a platform for the fragrance industry where all important topics related to fragrance ingredients & future breakthrough of industry were covered. It has been a learning experience overall & hats off you guys for organizing such event."
Farhad Hussain Choudhury, Asst. Manager – Perfumery – Ajmal Perfumes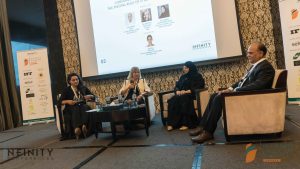 "I am pleased to have attended the 2018 Fragrance Innovation Summit in Dubai. It was a well-planned event and the organizing team was courteous and professional. The presentations were relevant and informative. It was also a good opportunity to meet suppliers to the perfume industry as well as colleagues in the business."
Akram Saksouk, Director – Sasso FS DMCC
"The Fragrance Innovation Summit Arabia event is no doubt the most informative and inclusive conference I have ever attended. I learnt a lot and made great contacts. I am looking forward to many more beautiful experiences in the future."
Adewale, Founder, Sapphire Scents
Read this post in

Arabic