Read this post in

Arabic
A bevy of beautiful people shared the stage with regional traders, professionals, and international manufacturers, as the Middle East's largest beauty and wellness exhibition concluded yesterday (16 May) in spectacular style.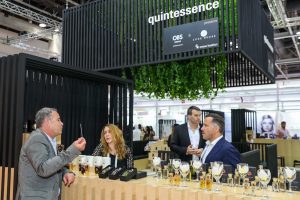 Beautyworld Middle East 2017, which took place at the Dubai International Convention and Exhibition Centre, attracted 42,012 visitors from 135 countries, and featured 1,580 exhibitors from 60 countries.
Spanning 55,000sqm, the three-day event's 11.5 per cent increase in size year-on-year was duly matched by a 13 per cent growth in visitors, with throngs of spa and salon professionals, hairstylists, makeup artists, importers and exporters out in force, sourcing inspiration and the latest products displayed by the biggest brands in the global beauty business.
Beautyworld Middle East continues its double-digit growth trajectory in remarkable fashion, as ten show highlights shared the spotlight with more than 100 product launches across six sections of Hair, Nails, & Salon Supplies; Cosmetics & Skincare; Machinery, Packaging, and Raw Materials; Professional Equipment, Spa & Wellness; Fragrance Compounds & Finished Fragrance; and Personal Care & Hygiene.
The 22nd edition of the annual showcase was a mix of glamour and serious business in equal doses; models graced catwalks presenting the latest makeup and hair trends from the likes of Hollywood hair artist Guy Tang at one end of the exhibition's vast expanse, while across the other, European premium skincare manufacturers or makers of niche perfumes were striking deals with regional distributors and high-end retailers.
Ahmed Pauwels, CEO of organiser Messe Frankfurt Middle East, said: "Although Beautyworld Middle East continues to grow in size and scope every year, it has maintained, and even advanced its relevance in the Middle East and African beauty and wellness market, which continues to deliver up a wealth of opportunity for global and local players alike.
"Whether you're a professional hair stylist seeking inspirational colouring trends, an entrepreneur looking for private label cosmetic manufacturers, or a hotel operator searching for the cutting-edge spa equipment and treatments, there's really something for everyone.
"The show's impressive growth coincides with Dubai's position at the forefront of interregional trade," added Pauwels.  "Figures from Dubai Customs show the emirate traded AED20.68 billion worth of perfumes and cosmetics in 2016, while in the first quarter of 2017, 202,000 tonnes worth AED5 billion were imported, exported, and re-exported."
Among the many show highlights returning to Beautyworld Middle East 2017 was Quintessence, an exclusive showcase of luxury and niche perfumes, many of which were seen for the first time in the region. The 2nd edition of the highly popular feature had doubled in size over the previous year, with every one of the 23 high-end brands on display coming with its own rich story, embedded in the creations of the unique scents themselves.
Luxe House, a distributor of premium beauty products throughout the Gulf region and several other Middle East countries, had six brands under its banner at Quintessence: Tom Daxon, Nishane, Le Galion, Signature Fragrances, Teaology, and Simone Cosac.
Doaa Tahboub, Co-Founder and Marketing Director of Luxe House, said: "Quintessence offers us a golden opportunity to be present in front of a massive market segment that tends to be split between those searching for ultra-luxury products and those looking for something a lot more personalised and unique, and that has an independent voice.
"There're movements happening in each direction, and I would like to think of ourselves as a hybrid between the two. We do represent luxury brands but we're also there for people who are willing to be individual and step out with strong individuality.
"Quintessence is ideal not only to fulfil marketing objectives, but to draw inspiration from because it's very refined, it's very intimate, it's designer-led. The way it's built, and the dynamics of the feature makes it feel as though it's an independent exhibition on its own," added Tahboub.
Beautyworld Middle East is the region's largest international trade fair for beauty products, hair, fragrances, and wellbeing.  The international flavour of the show was underline by the presence of 22 country pavilions, while the captivating highlights were spearheaded by Centre Stage by Nazih Group – a three-day educational showcase of the latest trends and developments in the beauty industry.
Other special event features ensuring visitors come away inspired, educated, and rejuvenated included: Battle of the Barbers; Sensorial Journey by Carita & centdgres; Hair Education by ghd; Nail It! By Artistic and OPI; the Business in Beauty Summit; and Face it! by Mehron and Madi International.
The 23rd edition of Beautyworld Middle East takes place from 8-10 May 2018.  More information is available at:www.beautyworldme.com.
Read this post in

Arabic