Madonna likes her perfume like her own personality! Bold and sensual, Hypnotic Poison by Dior!
Madonna, the Queen Of Pop is a popular singer, songwriter, actress and businesswoman. Her leading presence from the 1980s on MTV for her irreplaceable music is still the same on the charts of pop music. She has been known for pushing boundaries of lyrical content and building something extraordinary out of the mainstream music. She has also frequently reinvented both her music and image while maintaining autonomy within the recording industry.
Her musical career has been a continuous experimentation with new musical ideas and new images and a constant quest for new heights of fame. But before emerging as a pop star, Madonna has spent her early years in rock music alongside her two bands: Breakfast Club and Emmy.
Madonna's choice of fragrance is no surprise, it is bold, fierce, powerful and deeply sensual. She likes Dior's Hypnotic Poison. As the name suggests, this fragrance is deep, sensual and erotic. The nose behind this perfume is Annick Menardo, an oriental scent that alludes boldness and intensity.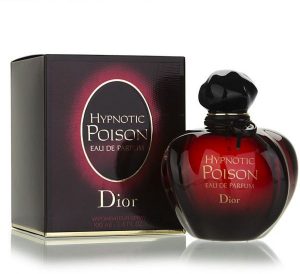 Notes:
Top: Apricot, Plum, Coconut
Heart: Tuberose, Jasmine, Lily-of-the-valley, Rose, Brazilian Wood, Caraway
Base: Sandalwood, Almond, Vanilla, Musk