Technicoflor indulges us  on a journey to delve into the aspects of one of the world's most expensive spices
Dating back to the dawn of time to 1500 BC Greece, Saffron was already coveted for its use, not only as a singular fragrance but also as an ingredient in cooking, medicine, as a dye, and even in cosmetics.
Deep in the excavations of Akrotiri, Saffron was discovered in frescoes of the Greek island of Santorini, however the traces of this spice have been found in pigments on prehistoric paintings from over 50,000 years ago.
According to a legend in Greek mythology, Hermes was said to have accidentally injured one of his companions, causing three drops of blood to spill onto the ground. As a result, a magnificent flower bloomed from the ground where the blood had fallen – the heart of which carried three red pistils – saffron. Thus, saffron came to be known as a symbol of resurrection.
In ancient Egypt, Cleopatra was also known to bathe in saffron infused milk in order to lighten her skin as well as to smoothen it.
In more recent times, the formula of the world's first ever eau de toilette – the Kyphi perfume – has Saffron present in it.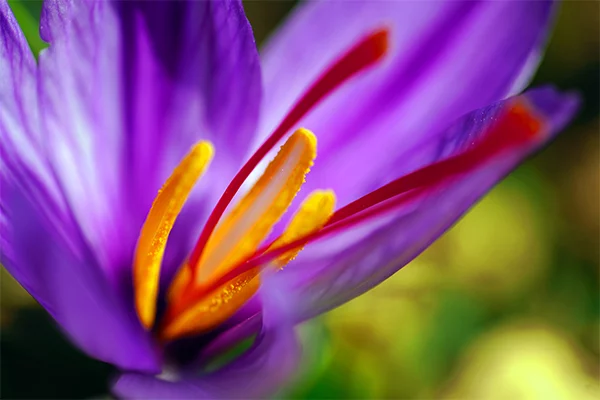 Origin and Harvest
Originally from Greece, saffron or "Crocus Sativus" as it is botanically known, is now also produced in places like Morocco, Iran, Spain, Italy and the French Mediterranean basin.
As the season of autumn comes to an end, this bulbous plant – whose flower blooms in a single day – is harvested right in the morning in order to have the petals stay in their well-closed state. During the process of what is called 'pruning', the three red filaments of the saffron are then delicately removed from the Persian Za'Faran. These precious pistils are then taken to a ventilated room where they will be dried to preserve the rich colour and aroma.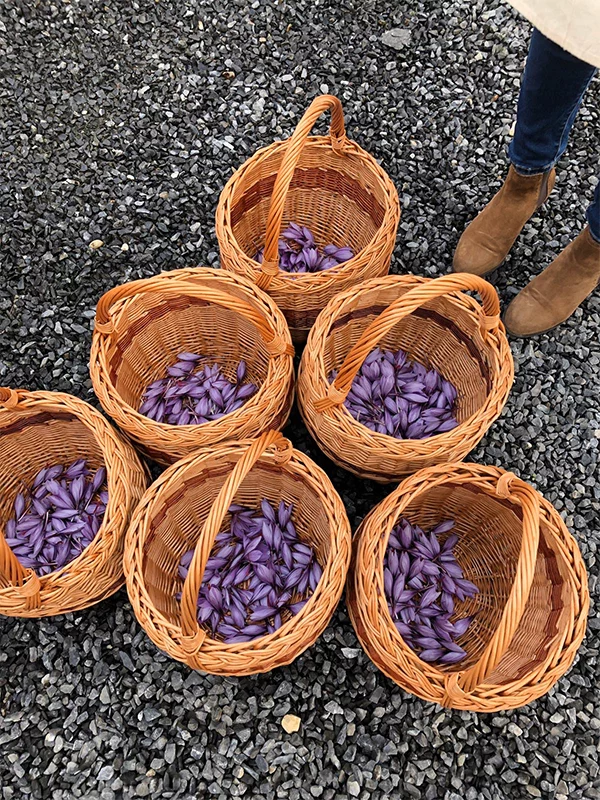 Saffron, a fascinating olfactory treasure
Saffron, also known as, Red Gold is a multi-faceted spice, whose history, in its cultivation and use, dates back to more than 3500 years and crosses several cultures, continents and civilisations.
In perfumery, saffron has a very distinct olfactory signature: spicy, leathery, woody-dry, metallic, etc. However when it comes to the plant, depending on the stages of the harvest, multiple fragrant facets are revealed which we had the opportunity to discover.
The Fresh Flower : Green-hyacinth, floral-honey, freesia-apricot scent, with a slight dry saffron effect
The Drying Stigmas : Fruity-floral smell of apricot, osmanthus, plum, dried fruit, very slightly leathery
Dry Stigmas : Leathery, tarry, "dry woody" metallic smell, with an addictive baked fruit-furaneol facet.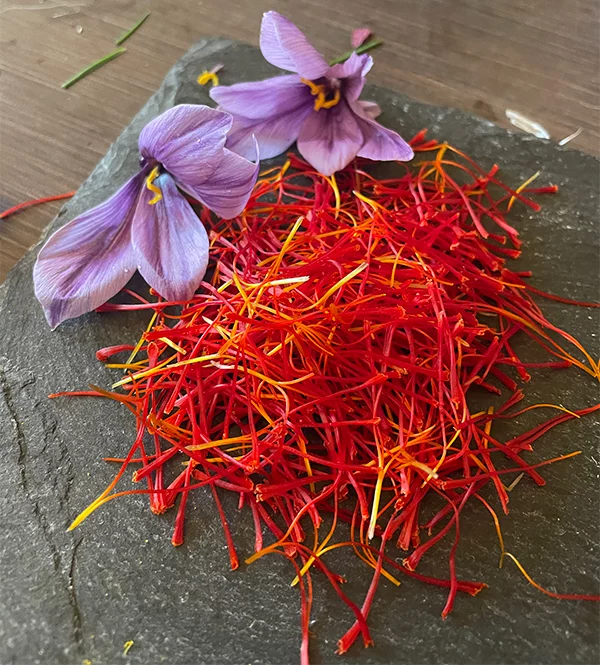 Saffron is naturally found in oriental and woody perfumes, worked with woody notes of oud wood. It can accompany leathery, oriental, chypre, gourmet, vanilla, woody notes, possibly floral notes with character such as iris, rose, violet.
"Saffron is a very hot, very vibrant spice with an additional characteristic: it has very specific leathery effects. Saffron obviously has a very positive impact in the other spicy accords, but also in the leathery notes, to a second measure in the iridescent and woody accords. A spice that I have encountered during my many trips to India, where it is all powerful, ultra-present, the king of spices I would say. As in all the countries of Asia Minor up to Iran … If I had to remember one perfume in particular it would be 'Safran Troublant of l'Artisan Parfumeur', created by Olivia Giacobetti, a very beautiful work on the saffron and sandalwood duality.
I already had the opportunity to rediscover behind the scenes of this red gold, cultivated on the rooftops of Paris, and to participate to saffron harvest in October. The TechnicoFlor perfumers had specially developed a collection of fragrances from saffron accord for this occasion. I even planted saffron bulbs myself in my garden, and it gave me a lot of inspirations for future desserts: saffron panna cotta, saffron rice pudding, saffron basil lemon ice cream…" said, Bertrand Duchaufour, Perfumer at TechnicoFlor Parfums.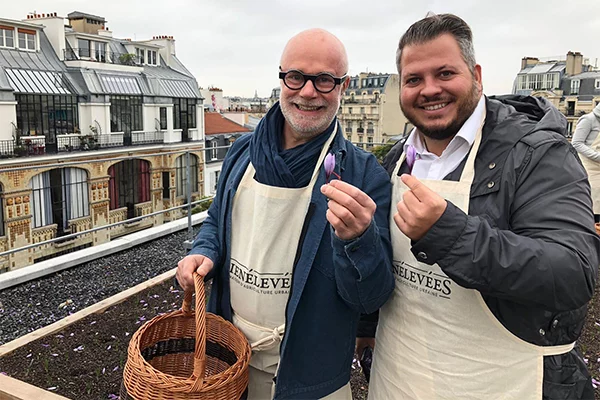 Saffron culture in Paris
As part of its CSR policy, TechnicoFlor supported BienElevées – Maison d'agriculture urbaine, the eco-responsible initiative to plant saffron on the roofs of Paris and contribute to make Paris "greener".
The TechnicoFlor Group supplies the biggest names in perfumery, cosmetics and hygiene. Its perfumes and plant extracts are used in many applications around the world such as fine fragrances, body care, shower gels, shampoos, home care, home fragrances, hydro alcoholic gels and more. TechnicoFlor has, for many years, contributed to the economic, cultural and social and environmental dynamism of the territories where the fragrance house operates.
For three consecutive years, in October, TechnicoFlor participated in the life of one of the urban saffron fields of BienElevées: from the planting of more than 1500 saffron bulbs to the harvesting and pruning of this Parisian red gold. The TechnicoFlor teams have had the pleasure of discovering the behind the scenes of the production of this fascinating spice: a flower whose extremely complex olfactory signature reveals in turn its spicy, coppery, woody, dry or even metallic notes.
A true source of inspiration for perfumers, this initiative is oriented towards sustainable development and respect for biodiversity. This has already made it possible to develop a collection of accords around the ingredient that is saffron.
"We share with BIEN ELEVEES the same passion for flowers and the desire to exercise our profession with respect and eco-consciousness. Participating in the cultivation of saffron represents a real olfactory re-creation for our perfumers. This is an opportunity to experience the many facets of saffron", concluded Caroline Catherine, Marketing & Evaluation Manager at TechnicoFlor.