Inspired by his song 'Sterek',  musician Trevor Rufaro Goustiono popularly known as Kay Gee 40 in music circle, has set his eyes to release his own fragrance range 'Sterek' this season…
Capitalising on his popularity in fashion and beauty products was probably too conventional for Kay Gee, but by announcing the release of his own fragrance range inspired by the lyrical content of his track, Kay has agitated his fans to basically 'sniff the song'.
Partnering with Njash Brand – a company owned by South Africa-based Trevor Guta, Trevor has made sure to cover the ground. According to the statement by Trevor, 'Sterek' comes in a 50ml bottle and is named after his contemporary popular track.
Sterek is unique as it is unisex while the fragrance is distinctive and has a mature fruity incense that would last for seven hours. Although the deodorant is not allergy free, people with asthma could still relish the scent by using it on their wrists.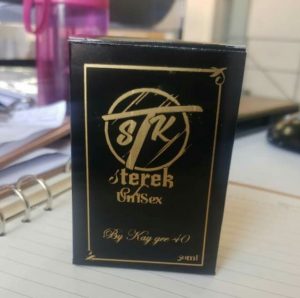 Kay Gee also mentioned that the fragrance is made unique so that it caters for everyone like any other toilette spray, it will lose its character after five hours but the amber cypriol oil would take over and last for two more. ''It has a unique scent and we used some blackberry so that it can be fruity, not loud. It does not affect the next person. It is one of those fragrances that you wear on a cool summer night and smell like a billion dollars,'' he said.
Kay conferred that lyrical content like 'it's a new era hatitambe nevapfana vane error' has been a major motivator in creating the fragrance, he then decided to introduce something different in the market since 95% of Zimbabwean artists were focusing on introducing clothing lines.
Sterek will be available on 3rd of this September in Harare, Mutare and Gweru with per bottle being $15 while promising the availability of the fragrance spreading across the country.