Murano Exclusive Collection represents the ideal combination of the highest Venetian craftsmanship with the most refined fragrances created by master perfumers. The collection is now enriched with a new fragrance: Imperial Emerald
Emerald-coloured eyes, the whoosh of a regal garment and the unmistakable scent of timeless elegance: Imperial Emerald is the new seductive fragrance by The Merchant of Venice and takes its inspiration from the peacock, one the most enchanting and majestic of creatures. For millennia this bird has inspired myths and legends in both western and eastern cultures; legends that attributed to it the ost sublime meanings – beauty, longevity and love, along with vanity, luxury and pride.
The dazzling, visual displays generated by its fan-like tail have enchanted and confused the gaze of mortals, as well as the immortals of countless myths. To pay homage to the elegance and wonder of Venice, The Merchant of Venice was inspired by these emerald-green and blue patterns and created this new olfactory masterpiece. The Murano Exclusive line distinguishes itself by its olfactory refinement and high content of essential oils, which generate a long- lasting scented trail.
The top is joyful, with splendid modern citrus faceting the fragrance from the top to the dry-down as a caressing shiver to accompany an orris poudrè and pink pepper in a passionate crescendo. In the middle a loving tremble, Ylang Ylang and opulent rose absolute Chile, is joined by a marvelous bouquet of clinking lily of the valley with all the magnificence of night-blooming jasmine, tuberose and orange flowers.
The dry-down is warm and rich of white amber and precious benzoin passionately hugged in a seductive dance. A creamy vanilla and the most enveloping musk accompany an innovative patchouli for an unforgettable long-lasting trail, for a woman who leaves her mark and is, like her Imperial Emerald, forever.
Murano Exclusive is composed by seven exclusive Eau de Parfums Concentrée fragrances : Imperial Emerald, Craquelè, Arabesque, Liberty, Vinegia, Rococò and Fenicia. Each one is characterized by a high concentration of fragrance each with its own olfactory signature expertly crafted – the floral and oriental heart notes confer a unique, refined, and definite character to each creation.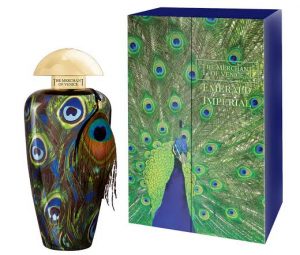 Launched In:
2019
Notes:
Top: Bergamot, Mandarin, Pink Pepper, Iris

Heart: Ylang Ylang, Rose Absolute, Absolute Lily, Lily of the Valley, Tuberose, Orange Flowers

Base: Amber, Vanilla, Benzoin, White Musk, Patchouli