Read this post in

Arabic
Because It's You is happy, delicious and sparkling: simply irresistible like a ripe raspberry in its perfect and most elegant naturalness when combined with neroli notes. The fragrance is unabashedly feminine, full, instinctive and passionate.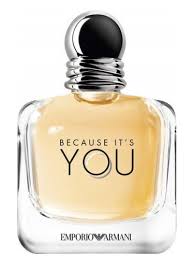 Notes:
Top: Raspberry, Neroli, Lemon
Heart: Rose
Base: Vanilla, Amberwood, Musk
---
Review by Christian Provenzano
Perfumer's Remark : A well balanced accord of red fruits and white flowers. Great fragrance for day and night!
Sillage:
[icon name="star" class="" unprefixed_class=""][icon name="star" class="" unprefixed_class=""][icon name="star" class="" unprefixed_class=""][icon name="star" class="" unprefixed_class=""][icon name="star-o" class="" unprefixed_class=""]
 Longevity:
[icon name="star" class="" unprefixed_class=""][icon name="star" class="" unprefixed_class=""][icon name="star" class="" unprefixed_class=""][icon name="star" class="" unprefixed_class=""][icon name="star-o" class="" unprefixed_class=""]

Read this post in

Arabic