Read this post in

Arabic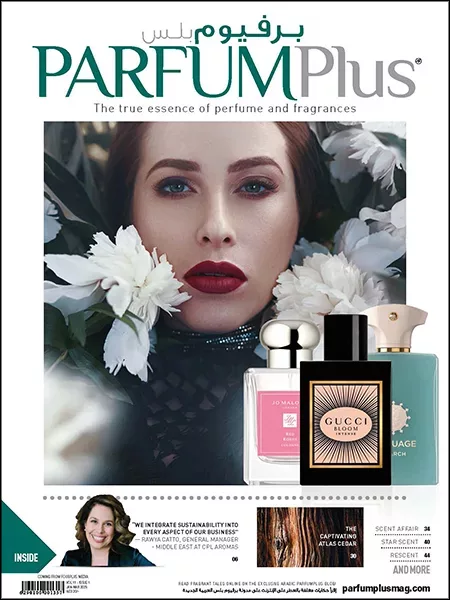 Olfactory Accords That Will Rule 2023
According to Ana Gomez, perfumer at Iberchem, in 2023, the Middle East will reinforce its taste for traditional ingredients by exploring unusual pairing avenues with unexpected raw materials
The Middle East always manages to surprise us with its fragrance notes, preserving its authenticity as a unique market, and yet also introducing trends that connect with the European market. Some trends transcend all across the globe, such as the need to find inner peace and motivation on a daily basis, something that we achieve, for example, when a perfume responds to our own individual tastes.
In this article, Ana Gomez, perfumer at Iberchem, gives a peek into the fragrances that are likely to remain in the headlines in 2023, for the Middle East. The region will see the introduction of new combinations with a fresher and more modern rose fragrance, and the unisex concept will be empowered, something that was the vogue in this market much earlier than it was in Europe, as intrinsically feminine ingredients are more valued by the male audience there.
Genderless perfumes, more than trendy
The Middle East has always been at the forefront of perfumery trends all around the world. One of the clearest examples of this is the rise of genderless trend that we are now seeing everywhere around the world has been popular throughout the Gulf area for quite some time now.
Perfumers let the consumers choose which perfume they want to wear; we do not impose limits regarding taste. For example, jasmine and violet are not just feminine accords anymore, and leather is not just a masculine accord; they are simply ingredients in the perfumer's palette available to anyone, and for any fragrance.
Rose-amber, elegance and sophistication, new times to come
Rose is, has been, and always will be trendy and a symbol of elegance and sophistication. Every year, we see fragrance houses reinventing the rose fragrance using different approaches. This year, we are leaving behind the "old and powdery" rose, which has been associated with demure perfumes, and we are going to see a more sophisticated, modern, and groundbreaking rose.
The rose-amber combination is going to be very trendy, because the modern amber molecules give a power punch to the rosy notes due to their dry nuances.
Oud-Incense, spirituality on top
Oud is one of the most (or maybe the most) important ingredients in the world of oriental perfumery. It has always been linked to the beauty of the fragrances, but also to their most spiritual and intangible facets. The most appealing combination is oud with incense, as they both have very characteristic emotional attributes.
Mood therapy, a must in perfumery
The last big trend that I would like to highlight is what we call mood therapy, which is, essentially, associating different olfactory notes with different moods. For instance, we associate citrus and fresh notes, such as bergamot and mandarin, typically
found in lighter and refreshing fragrances, with more active, energetic, and happy moods.
Sweet notes (like vanilla and other gourmand notes) and white flowers are often associated with moments in our life when we need an extra punch of self-confidence, as they are usually present in perfumes with a more sensual profile - perfumes that enter the room even before the person that is wearing them walks in. Neither can we forget about spicy fragrances and those with a touch of amber, both worthy of any elegant perfume that represents empowerment and strength.
In line with these trends, Iberchem is working on new research projects focused on combining the best possible fragrance with feelings of happiness and empowerment, in order to boost our emotional state and allow us to enjoy our own uniqueness and personal freedom.
Read this post in

Arabic