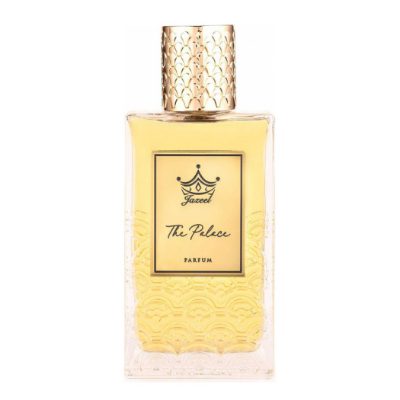 The Palace by Jazeel
The Palace is inspired by the Qasr al-Watan Presidential Palace (Palace of the Nation) in Abu Dhabi, where the UAE royal family meets with foreign leaders and representatives of international organizations, and where the UAE Supreme Council and Cabinet of Ministers meet.
This exclusive perfume — a kind of solemn accessory for officials — is designed to give its owner grandeur, aristocracy and luxury, befitting a meeting at the highest level. The availability of the fragrance to everyone has its own reason: Since 2019, the Palace of the Nation has been open to everyone and is now one of the tourist attractions in the UAE. In addition, it consists of a main hall and two wings, west and east (and that feature could be found in the perfume composition). The east wing includes the House of Knowledge and a library with 50,000 volumes, including historical books such as the Koran and the Bible. The west wing is used for official meetings, and one of the rooms is called the "Spirit of Cooperation."
Brand's Description
The Palace is inspired by the Presidential Palace of UAE, where royalty meets aristocracy. This privileged perfume indulges you with grandeur and opulence. Kindle your imperial romance to the artistry of intimacy. The Palace's intoxicating woody-powdery & musky perfume is a blend of the majestic Prachin oud with the magical combination of citrus, floral and woody undertones. Its citrus top notes are coupled with middle notes of jasmine and Bulgarian rose and signed off with base notes of sandalwood, vetiver, orris root, and cinnamon. Encased in a one-of-a-kind bottle, this perfume evokes aristocracy and power during those intimate royal moments with your loved one. Create a royal courtship, which generations fondly remember.
---
Top Notes
Bay Leaf, Bergamot, Cardamom, Lemon, Neroli
Heart Notes
Bulgarian Rose, Jasmine, Marshmallow, Ylang-Ylang
Base Notes
Cedar, Cinnamon, Cypress, Incense, Labdanum, Musk, Oakmoss, Orris, Oud Oil (Prachinburi Thailand), Sandalwood, Tonka Bean, Vetiver
Common Notes
---
Perfumer