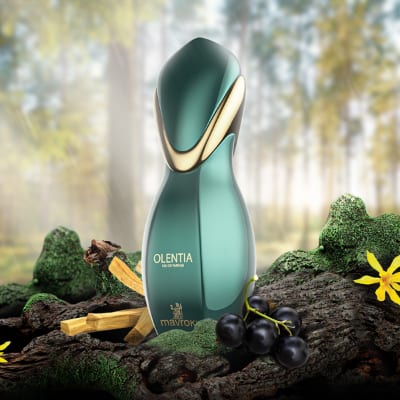 Olentia
Portraying the elegant nature of its wearer - Joyous, Sophisticated and Distinguished
An original fragrance with a radiant sillage designed as a manifesto for new generations of aesthetes, Olentia opens up a new dimension in the women's fragrance collection of Mavroki. The pure tradition of the formula combines the surprise and intrigue of modernity to create a contemporary, free and truly feminine scent. "I wanted Olentia to be luxurious and indulgent, but subtle, elegant and almost classic at the same time", said Mustafa Alasali, the Founder of Mavroki.
Entrusted with the creation of Olentia, the renowned French perfumer Nejla Barbir spent many months shaping and refining the olfactory narrative to curate the composition Mustafa Alasali had envisioned.
With its emerald green coloured body, trimmed in gold, the Olentia glass blown bottle is modelled after its wearer, with curves that encapsulate the elegance and sensuality of femininity. Selecting materials of exceptional quality and combining them with unprecedented molecules, Barbir challenged the established codes of the olfactory pyramid to create a round and vibrant fragrance, where the notes expertly interact, blossom and blend, once in contact with the skin. 'A true Mavroki creation', this fragrance uses a mix of carefully sourced materials.
Olentia continues the timeless elegance and breathtaking beauty that is at the forefront of every Mavroki creation. The perfume house continues to be applauded amongst fragrance connoisseurs in the region, credited to the quality of the brand's products, but also due to its sophisticated range of regionally focused fragrances within the collection.
---
Top Notes
Bergamot-Lemon, Citrus, Green Blackcurrant
Heart Notes
Coconut, Floral Rose, Fruity Peach, Geranium, Jasmine Sambac, Orange Blossom, Pear, Violet, Ylang-Ylang
Base Notes
Ambery Sweet Vanilla, Guaiac Wood, Patchouli, Sandalwood, Vetiver, Woody Cedarwood
Common Notes
---
Perfumer