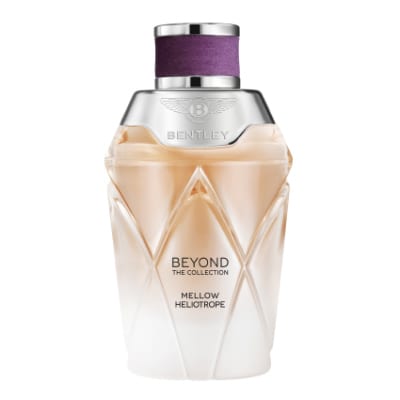 Mellow Heliotrope by Bentley
Mellow Heliotrope by Bentley is a Floriental fragrance for women and men. Bentley Fragrances is proud to introduce Mellow Heliotrope in its exclusive Bentley Beyond collection. This collection revolves around matching peerless ingredients with far-flung destinations - Mellow Heliotrope for Lima - the floral world opens a new, more feminine realm of colours and emotions to explore.
Her manner is gentle, reflecting her quiet confidence and inner power. Naturally empathetic, she thrives on intimate tête-à-têtes and deep conversations. Tenderly feminine and softly sensual, she strives for harmony wherever she goes.
The flower that best expresses her sweet but compelling character is heliotrope, a purple Mediterranean charmer whose name means "turns towards the sun". With wafts of vanilla and anise, its powdery fragrance is a perfume in itself.
To complement these softly sensual facets, Karine Dubreuil Sereni has picked a palette of pink and purple notes. The fragrance opens with crisp blackcurrant bud, accented with pink pepper. A playful strawberry heart introduces a romantic mauve bouquet of violet and heliotrope. A touch of vanilla and praline enhance Mellow Heliotrope's subtly gourmand facets, for an exquisitely seductive trail.
The Flacon
Drawing on the expertise of Bentley's design studio, the flacon and packaging of Bentley Beyond - The Collection uphold the same exacting standards and attention to detail as the marque's cars.
To reflect the different personalities of the Bentley women these scents are dedicated to, each fragrance has its distinctive colours, both in the hand-stitched suede cap that reprises the interior of a Bentley car and the tint of the scent, showcased by the soft satin glass of the bottle.
The majestic faceted flacon is inspired by the signature cut-crystal glass headlights of the Continental GT. The stability of the heavy 400-gramme bottle is delivered by a thick glass base. The legendary emblem is engraved on the silver metal shoulders of the flacon. The elegant coffret is covered in soft-touch leather grain paper. The label, in the same colour as the cap of each scent, bears the names of the collection, of the fragrance, and of the destination that inspires it.
---
Top Notes
Bergamot, Cassis, Gardenia, Mandarin Orange
Heart Notes
Elemi, Pink Pepper, Raspberry
Base Notes
Ambrette, Heliotrope, Praline, Violet Leaf
Common Notes
---
Perfumer