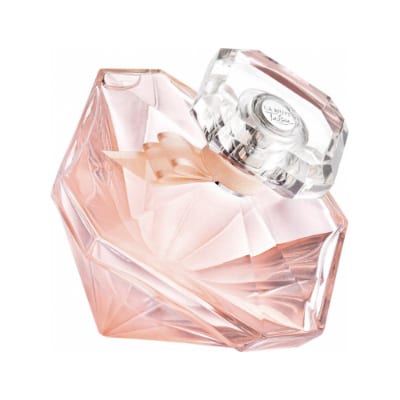 La Nuit Tresor Nude by Lancome
La Nuit Tresor Nude by Lancome is a Floral fragrance for women. La Nuit Tresor Nude, it's time to reveal yourself for Lancome's popular night diamond fragrance collection in an exciting naked love edition possibly even brilliant for Valentine's gift.
In this new chapter of La Nuit Trésor, we discover the most authentic love story: La Nuit Trésor Nude, a long-lasting rose perfume with bergamot, coconut and vanilla perfume notes. A shade of soft pink in a palette of romantic emotions; used to describe an authentic and delicate love, laid bare in a whirlwind of intense sensuality. She smiles, she dances, she even cries, she is everything he loves, in every move she makes. In the eyes of her lover, she is sublime no matter what, a sequence of stolen moments, with no filter. In his eyes, she is love.
In this Nude version of La Nuit Tresor, the rose adopts a solar and carnal prism where the accords of coconut, bergamot and peach play with vanilla and benzoin. A glowing rosy heart, complemented by fresh peach bergamot. Delicious vanilla and full coconut give the fragrance a soft texture, making the scent addictive.
The Flacon
Housed in the familiar diamond multifaceted bottle with a plush soft orange-pink pastel hue. This bottle has been designed by Charles Boussiquet.
The Ad Campaign
The face of the marketing and advertising campaign is Spanish actress and model Penelope Cruz.
---
Top Notes
Bergamot
Heart Notes
Rose
Base Notes
Coconut, Vanilla
Common Notes
---
Perfumer