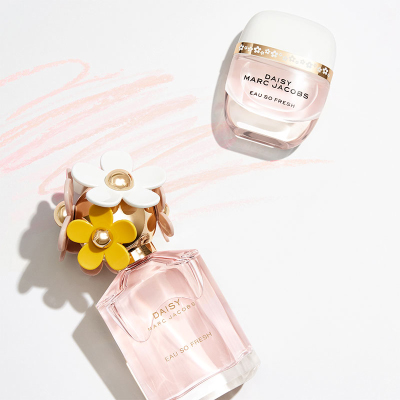 Daisy Eau So Fresh Petals by Marc Jacobs
This fragrance belongs to the Daisy Petals Collection by Marc Jacobs, which comes in TO-GO sizes. This is packaged beautifully in a Compact, cute and collectable piece. Designed to fit naturally in your hand, and a must-have in your everyday life.
Based on the combination of notes Marc Jacobs Daisy Eau So Fresh Petals is classified as Floral Fruity fragrance to the nose. The emanation of flavours and scent notes for Daisy Eau So Fresh Petals unfurl in a whiff of fruity and citrus opening top notes including green. The floral and fruity heart centre notes blend in with leather, apple blossom, jasmine, rose, violet and litchi while the deep fruity and musk base notes leave an impression of musk, plum and cedar.
The sparkling, fruity-floral Daisy Eau So Fresh Eau de Toilette comes in a slim, pocket-sized bottle - the ideal companion for anyone who doesn't want to miss out on their favourite scent on the go. The wonderfully fresh composition of flowers testifies to strength, elegance and charisma. She playfully takes us to a sunny place where exuberance and joie de vivre ensure pure happiness. The juicy, tangy notes of raspberry and grapefruit tingle on the skin like sunlight, while in the sensual heart violets, apple blossom and wild rose combine. Gentle cedar, musk and warm plum form the noble basis of Marc Jacobs' Daisy Eau So Fresh and give the playful composition and elegant depth.
---
Top Notes
Foliage, Grapefruit, Pear, Raspberry
Heart Notes
Fruit Blossom, Jasmine, Leather, Lychee, Rose, Violet
Base Notes
Cedarwood, Musk, Plum
Common Notes
---
Perfumer